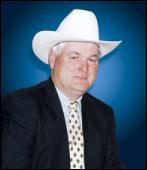 Dear Cattlemen:
As an experienced sales and marketing executive, I have developed creative marketing strategies. I possess a diploma in Agriculture and have over thirty-five years of relevant professional sales experience, including more than twenty-five years in auctioneering and purebred cattle sales management.
If your operation is looking for an experienced and self motivated sales professional, you will be interested in reviewing some of the things Don Savage Auctions can do for you.
Don Savage Auctions have a conscientious and excellent working relationship with the purebred producers. We have the expertise to put together the type of catalogue that you will require as well as a well-established up-to-date mail list that can be processed to reach your potential customers. Our knowledge of the purebred livestock industry can be a very important asset to the seller when he is trying to realize the best possible results.
Don Savage Auction's customers have always taken top priority. Whether you are hosting your bull sale, a production sale, a consignment sale or an Association-sponsored event, we promote your program, not just sale day but year round.
Should you have any questions, or require any additional information, please contact me as soon as possible. I would be happy to meet with you at your convenience to discuss your sale requirements.
Sincerely,
Don Savage

Auctioneering • Cattle Sales Management • Order Buying
"The professional service your sale deserves"
Quality • Service • Integrity • Confidentiality